How easy or hard is it for you to truly say – I LOVE ME?

How easy or hard is it for you to truly believe – I LOVE ME?

OK, not me as in Candy, but ME as in YOU.

I want you to really ask yourself that.

What in the world does this have to do with long-term weight-loss & long-term change with anything?

E.V.E.R.Y.T.H.I.N.G.

It's EVERYTHING.

It's the only thing that works long-term for change.

We have to learn to love and trust ourselves.

It may seem like a big feat, but there are a few simple steps.

But let me share a quick story.

Last week, I did a video on self-love.

The irony about that video is that I was starting to see only the first bits of the power of self-love for that week.


I had spent a few weeks, seriously not realizing that I was quietly beating myself up for "not measuring up".

I was comparing myself to some other people in my coach-sphere about building my business and my brain kept telling me things like:

"You're not doing it right."
"You're not doing it fast enough."
"You're not doing enough."
"You're not enough."

(That gol' darn compare and despair instinct-we'll talk more about that later)

BAM.

Sound like self-love to you?

Nope. Me neither.

The crazy thing was that I couldn't hear it or see it.

I couldn't hear how unloving I was being to myself.

I just thought it was the dang truth.


I was listening to those voices and thought, yep, you're right. Yep, you're right, and it felt like treading water with cement shoes on.
It felt like struggling & fighting with a tiger in my chest.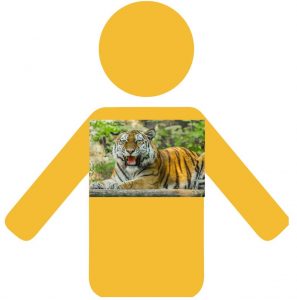 CAN YOU RELATE?

Where in your life to you catch these thoughts coming up?

I couldn't see that those thoughts weren't true.

The reason I couldn't see they weren't true was because…

They were in my mind's blind spot. Each one of these thoughts created fear and panic and when our brains and bodies are experiencing fear and panic, our brain closes down access to our pre-frontal cortex and we can't "see" or think clearly or discern or problem solve nearly as well.

We can't recognize or distinguish or rationally think because the chemical vibration of the fear emotion puts us into fight, flight or freeze and disconnects us from our amazing pre-frontal cortex that is so wise and an amazing problem solver.

An amazing coach friend of mine helped me see this.

She said: "It's all data. It's just math."


When she said it's all data, my brain flipped on.
It Re-booted.
It connected to my pre-frontal cortex again.

I was able to see the personal shaming I was doing and take it out of the equation.

To my clients: sound familiar?

What if everything I'm doing in my business is just a learning process to collect data.

We do this in our weight-loss process or the relationship process or the parenting process or any new learning process.

I teach my clients to just collect data around food, their thoughts and their feelings.

I teach them to collect the data about what you eat & when & what you are thinking and feeling before and after.

Collect the data about what made your body feel good, what made your body feel not so good after.

Just observe it kindly like you would as if you were observing a tiny baby with so much love.

When I heard the phrase it's all data, my brain instantly saw that I was making it all personal.

I was caught in my survival fear brain.

If you find yourself buying in to any of the aforementioned compare/despair/mean girl brain thoughts, around your weight-loss process or ANYTHING else in life, I invite you to take a step back and say to yourself:

I'm just collecting data.
I'm seeing what works and what doesn't.
It's not personal.
Nothing has gone wrong.
I choose to love me no matter what.
I choose to be kind to me even when my brain wants to not be.
I choose to love me even when I don't like what I do.

When we start to practice and believe these thoughts, then our connection to our pre-frontal cortex comes up online again and we can problem solve from love.

In order to REALLY CHANGE AND REALLY PROBLEM SOLVE…

WE HAVE TO START WITH KINDNESS AND LOVE FOR OURSELVES.

OTHERWISE OUR BRAIN DOESN'T HAVE ACCESS TO IT'S BEST RATIONAL, INSPIRED, CREATIVE THINKING.

THIS MY FRIENDS IS WHY THIS IS THE ONLY KEY TO LONG-TERM CHANGE.

This IS the only key for true, sustained weight-loss, that is a part of who we are and no longer a fight in our brain to happen.

I LOVE YOU.

I LOVE ME.

GO SPREAD THE WORD THAT LOVE REALLY IS THE ANSWER.

Love,
Candy
CANDY WRIGHT BURGOYNE, M.A.
CERTIFIED LIFE-COACH, WEIGHT-LOSS COACH, RELATIONSHIP & HEALING COACH
Candy Wright Coaching @ CandyWright.com
p.s. If you'd like to get more help in learning to love yourself to Stop Emotional Overeating & Lose Weight for good…

CLICK THE "SCHEDULE APPOINTMENT"
BUTTON BELOW TO SCHEDULE YOUR
FREE COACHING CALL WITH ME TODAY