You don't have to do it alone anymore.
Heal The Root Cause of Emotional Eating by creating a loving relationship with food, body, your nervous system and your life.
Do any of these sound like you?
What will you get from the program?
In this program you will create a healing relationship with yourself, with food, with your body and with others.
You'll heal your nervous system, get to the root cause of emotional eating and be able to make compassionate, loving decisions & simple, "easy-button" plans so you build habits so you become a person who natural feels free, empowered, self-trusting & peaceful around food, your changing body, your stressors & your life. AND…we will help you use that energy you once spent on worrying about food, body, that DANG inner critic guilt to go create and live your second-half-of life's dreams!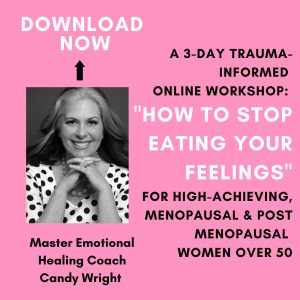 CLICK HERE TO PURCHASE & GAIN ACCESS NOW
Start HERE:  
HOW TO STOP EATING YOUR FEELINGS 3 DAY COURSE
A 3 Day Online Workshop for High-Achieving, Emotionally Intelligent, Menopausal & Post Menopausal Perfectionists over 50-ish.  
In the 3 Days  of this course you'll:
Go from frustrated  & confused because you keep eating your feelings and it feels like food controls you…
To knowing THE 3 KEY tools to feel FREE & CONFIDENT because YOU NOW know how to control the food with compassion & ease.
Here is what we will cover:
DAY 1: UNDERSTAND AND UNRAVEL the underlying systemic reasons & nervous system dysregulations issues that have made it feel so hard to control sugar & carb cravings (especially in and after menopause).
DAY 2: GET TO THE ROOT CAUSE of why you stay on the emotional eating roller coaster year after year & remove the deprivation & shame around food & increase self-trust.
DAY 3: DISCOVER THE FORMULA
to make your new tools second nature so you don't have to think about it all the time and…so you can get on to doing the other things in life you'd rather be doing! ONLY
$19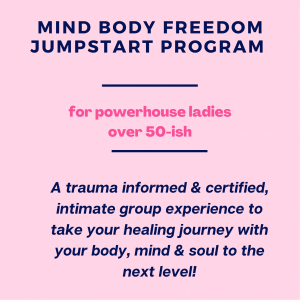 THE MIND BODY FREEDOM JUMPSTART SMALL GROUP COACHING PROGRAM
Is an Intimate Small Group Experience to learn the Tools to: Start Mastering & Accelerating YOUR

 

Relationship

 
of Freedom

 

with Food & Body

 

Beyond Menopause.
Here is what we will cover:
STEP 1: BODY FREEDOM: Reconnect with your body's wisdom & intuition so you start transforming your inner critic voice by 50-85% & so you learn to create peace & freedom with food & movement with SIMPLICITY AND EASE.
STEP 2: Emotional Freedom: Get to the Root Cause of Your Unique Food, Body or Eating Challenge, With Self-Compassion & So You Actually Stick To Your Plan On Auto-Pilot. Create purpose, pleasure & fulfillment for self comfort instead of food.
STEP 3: Mental Freedom: Unlock Your Mind & Body's ability to HEAL sugar and simple carb compulsions without deprivation, willpower or resistance & Reprogram Your Neural Pathways So It's Second Nature To Stick To Your Plan.
STEP 4: Food Freedom: Design Your Unique-To-You Food Freedom Plan so you nourish your changing body in a SIMPLE, loving, sustainable way on autopilot without feeling restricted.
STEP 5: Future Freedom: Put into Practice The Simple Formula to Make Your Tools Consistent & Second Nature BODY
The next round begins 10/3/22 @12-2pm Pacific then each Monday until 12/5/22 from 12-1 Pacific.
Investment:$697
ONE-ONE PRIVATE COACHING
MIND BODY FREEDOM EMBODIMENT PROGRAM
For those who are ready to ACCELERATE their results to UPGRADE their relationship with food & their menopausal/post-menopausal body, & eating challenges now, I work with a limited amount of people 1-1. This option is for you if you're craving intimate, private support. In this option, we will do a deep healing dive into Your Unique Root Cause of Your Food/Body/Eating/Emotional Eating Challenge and 10x Mind Body Jumpstart Program Concepts. Included: 24 private sessions over 6 months + Three 30 Min sessions over 3 Months for $7500 or 4 Calls/Month for 12 Months for $12,000.
Included: 24 private sessions over 6 months + Three 30 Min sessions over 3 Months. you would be a good fit for my program, no obligation. I would love to get to know you and I will offer you amazing value and resources on this call even if we don't work together.
Bonus: When You do 1-1, you'll receive a free ticket to the 3 Day Course: How To Stop Eating Your Feelings as well as a free ticket to the Jumpstart program as well.

CLICK THE LINK BELOW TO: Schedule your complimentary consultation now to see if this program is a good fit.
You may be nervous and that's OK. You may be thinking you've tried so many things and this maybe feels a bit deep and vulnerable. Don't worry, I got you. I make the process SUPER SAFE EMOTIONALLY and we will have FUN. This is my specialty, I can help you.
YOU DON'T HAVE TO DO IT ALONE ANYMORE.