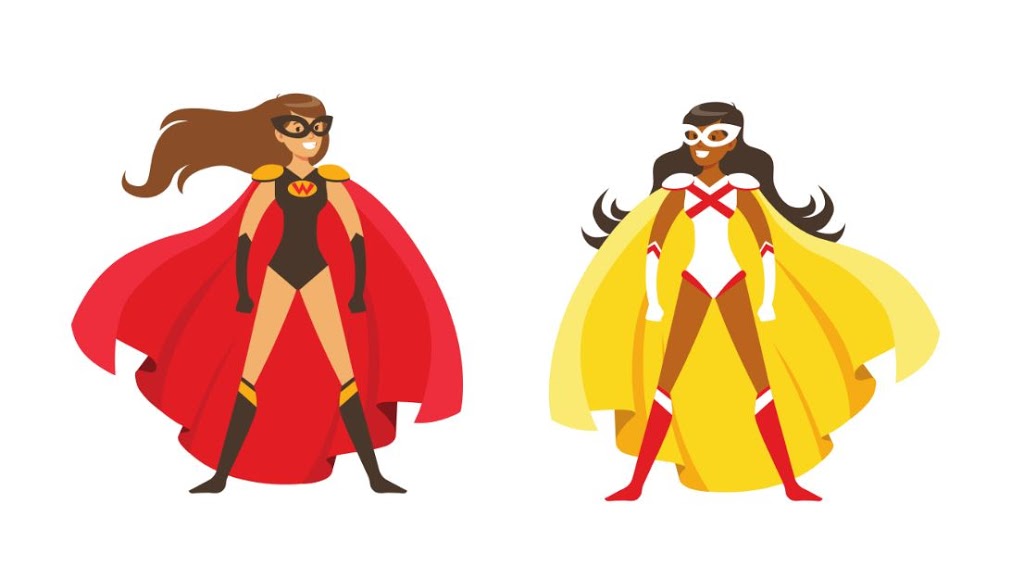 How have you been doing this week? I'd love to know.
Shoot me an email to Candy@candywright.com I'd love to hear any victories or struggles you've had this week.
I want to share a story about an amazing lady whom I met back in 1992.
She was a mentor to me and when we would go an do something slightly nerve racking while meeting new people, she'd say the most hilarious things to help herself and consequently me get the courage to go to them. (Maybe I'm assuming she needed the courage, maybe it was totally just me!)
When we'd go to meet someone new, she'd say, put on your Wonder Woman mask. She said she liked to put on her imaginary Wonder Woman mask and it helped her laugh, lighten up & gain courage to go do the next new uncomfortable thing.
She described the old plastic Wonder Woman Halloween costume masks with the slightly parted lips and she'd make her lips go into that shape. (I probably should have asked permission to share that part…forgiveness Susi?)
The thing with this lesson she taught me is that this lesson HAS NEVER LEFT ME I LOVE IT. She used humor to help me build confidence and work through fear.
(THANK YOU HERMANA WENDT-seriously!).
I was feeling some fear this last week & I just realized I forgot to put on a my imaginary Wonder Woman mask (tell myself I could do this new thing that my brain was telling me I couldn't so…I was feeling some fear this week)
So this lack of processing my fear, (forgetting to put on my metaphorical Wonder Woman mask) resulted in me up on the scales a bit.
This often happens when I'm taking on something new in my business.
I notice that I grab a couple of things off my plan, a bit unconsciously. Do you notice that for yourself by any chance?
I notice it and I don't make it mean anything about me or my worth or my love-ability.
I look to see where in my life my brain is telling me a story about how I'm afraid of something or how my brain is telling me I can't handle something.
Because that's all that's going on.
My brain is experiencing fear because it's telling me some version of I can't do something or it's too scary…so I have chosen to become someone who learned to just notice it as self-compassionately as I can and look at what I might be worried or nervous about.
I'm an entrepreneur and just like any profession in the world, it comes with growth & new things and new skills to be learned.
It truly is an exciting roller coaster of emotions.
I notice that when I'm about to do the next thing in my business, my brain wants to distract itself by grabbing an extra couple of spoons of peanut butter or by eating after my eating window ends at 8 or by getting lost in TV and sometimes Facebook/Instagram.
All this means is that I have a human brain, that I have a business and that I'm in the middle of doing something new (learning a new skill) in my business.
My survival brain thinks that because I'm learning something new in my business, it means I need to feel fear and that fear is too big to handle so I should graze a little and spend time on FB or watching TV.
Nothing is wrong with doing any of these things.
They are just normal ways a human brain can AVOID feeling emotion.
AND BOY DOES OUR AMAZING BRAIN LOVE TO AVOID FEELING FEAR.
GUESS WHAT, THAT JUST MEANS WE'RE DOING SOMETHING NEW AND THAT, YEP, WE'RE HUMAN.
They are just ways the survival brain tries to tell us the lie that we can't handle fear with courage instead of FB, TV or peanut butter (or brownies, or over working, or drinking etc.)
So what if it's OK, that I'm learning something new, doing something new in my business and it's OK that my brain's instinct is to want to numb and distract myself from the fear.
What if it's not right or wrong. What if it's just how it is?
What if we could all learn to do new things (build a business, excel in our new job, lose weight, improve our relationships) with courage, by working through the fear instead of avoiding it?
How magical could that be?
I want to share 2 tips to work with fear…
TWO CRUCIAL TIPS TO WORKING WITH & THROUGH FEAR INSTEAD OF AVOIDING IT
(WHICH JUST MAKES US STOP WORKING THROUGH IT
AND SLOWS DOWN OUR LEARNING AND GROWTH)
TIP 1: UNDERSTAND WHAT THE EMOTION OF FEAR REALLY IS:
Fear is just an emotional chemical vibration that occurs in our body. It occurs as an uncomfortable sensation in our body because our brains are telling us that something could be dangerous, to be on the look-out because we might "die".
I use the words "uncomfortable sensations" instead of "negative emotions" because negative has negative connotations for most people LOL, right??
So what if we could look fear as an uncomfortable sensation in our body that's just looking out for danger, it's trying to keep us alive and most of the time, we aren't actually in any real danger.
TIP 2: BECAUSE FEAR IS JUST AN UNCOMFORTABLE SENSATION, WE ARE CAPABLE OF LEARNING TO FEEL IT INSTEAD OF RUN FROM IT:

This one can be the more challenging for most people because everything in our instinct screams, "AH, UNCOMFORTABLE SENSATION, FIGHT, FLIGHT, FREEZE, AVOID IT AT ALL COSTS".
But you know what, being afraid of fear is usually the problem. We are just afraid of feeling fear because we don't know how to do it.
We haven't learned to understand that fear is simply an uncomfortable chemical sensation that is caused by a thought we had (usually a default thought like: "This is hard" or "I can't do this" or "I haven't done this before so why do I think I can…eek, I can't").

So here's the craziest, most liberating tip part of this TIP 2: HOW TO PROCESS FEAR:
1. Sit still, breathe in slowly, hold in the breath as you breathe in for 5-7 seconds, then breathe out slowly and just do that 2-4 times.
2. Remind yourself that fear is just a chemical vibration that feels uncomfortable & you are learning to just feel it, it won't kill you, you won't die. (Now, I'm not talking about doing this if you are in a dark alley and someone is approaching you absolutely may want to consider running. I'm talking about when your brain is telling you in your house, your job etc. that you can't do something.)
3. Remind yourself that nothing's actually gone wrong, you are just doing something new, or you haven't learned these skills yet.
4. Then just notice where the fear is in your body. Where does the sensation seem to start? Where does it travel or where does it seem to have landed?
5. Observe it. Notice it. Don't judge it.
6. Pretend you are looking at it from outside yourself and describe it. You may want to close your eyes for this part: just look at it inside your body. What does it look like, how is it moving.
7. Keep breathing, let the vibration pass through.
Do you need to become a pro at this in 1-3 sittings? Nope, but you're brain may tell you that you should, so just expect that.
WE CAN ALL LEARN TO UNDERSTAND FEAR, PROCESS FEAR & STRENGTHEN OUR EMOTIONAL PROCESSING MUSCLES.
Have fun taking your brain to the gym & process any fear.
You got this.
You can do this
I love you.
Candy Wright Burgoyne
Certified Life Coach, Emotional Healing Expert
Certified Weight-Loss Coach & Relationship Coach
P.S. If you want more help processing through any of your fears…you don't want to miss an amazing live workshop that I'm leading called Creating Extreme Freedom & Joy on July 13 in Bellevue, Washington.
CLICK THE SET TIME ZONE BUTTON ON LINK & IT WILL SEND YOU TO REGISTRATION PAGE.
I PROMISE YOU WILL WISH YOU HAD DONE IT SOONER AND YOU WILL LOVE IT, OR I WILL GIVE YOU YOUR MONEY BACK.