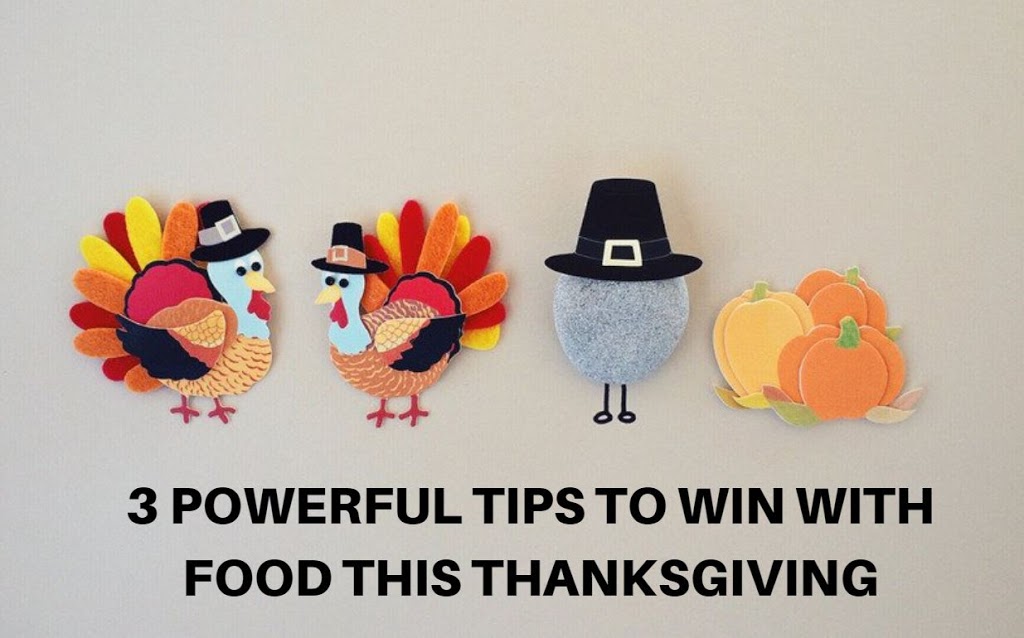 ARE YOU READY TO STOP THE OVEREATING THANKSGIVING SHAME??
ARE YOU READY TO WIN WITH FOOD THIS THANKSGIVING?
Are you "gearing" up for Thanksgiving?
Are you starting to think about all the food you'll prepare or eat or both?
Are you starting to think about the aftermath of the overeating shame that ensues?
Wanna be done with that aftermath of overeating shame?
Let me give you 3 POWERFUL TOOLS TO BE DONE WITH THE OVEREATING SHAME AND WIN WITH FOOD THIS THANKSGIVING:
TOOL #1 START WITH WHY & WHAT YOU MOST WANT
ALWAYS start with questioning your thoughts about why you're making Thanksgiving food choices OR any food choices for that matter.
If you've been following me, you know I'm always going to have you question your thinking first so that you create awareness and therefore connection to your pre-frontal cortex and therefore connection to rational thought & choice.
You know how it goes right?
We all have our traditions…the dishes your mom, grandma, auntie, friend's sister's mother-in-law's recipes, that you JUST have to have or ELSE IT ISN'T THANKSGIVING!!!
And we just start buying all the stuff because it's always been what we've done…
And we don't stop to ask why we are doing any of it.
We rarely stop to ask why we are choosing to prepare all the things that we think "make a proper Thanksgiving".
We rarely ask ourselves:
Why do I "have to have" the stuffing, the rolls, the multiple pies, the all the sugary treats, all the fixins, the sugary cranberry, the marshmallow-filled sugar-coma inducing sweet potatoes: AKA insulin-spiking-might-as-well-be-crack-ola??
Now I'm not knocking this stuff, ok, maybe I am a little…I choose to eat some of it at the holidays…food is just food.
It's neutral.
What I'm inviting you to do is just ask yourself WHY you think you want it or "have to have" it.
Ask yourself:
Why do you choose the food you choose to prepare at Thanksgiving (and this can really be at any time of the year).
Do you love the reason you choose to prepare it and eat it?
Is it because it reminds you of your mom or your grandma?
Is it really the food that reminds you or is it the thoughts (answer: it's the thoughts.)
(This is a whole other post: you can create remembrance of loved-ones traditions and rituals without food involved).
I invite you to ask this question just to bring some pre-frontal cortex awareness to the auto-pilot habit loop we are usually on when it comes to prepping Thanksgiving meals.
We rarely stop to think and ask, do I REALLY want all this?
DO I REALLY WANT TO FEEL THE WAY IT MAKES ME FEEL AFTERWARDS?
Do I really love all this?
Does it make me feel good after I eat it?
Do I really want to have those marshmallow-filled sugar-coma inducing sweet potatoes????
(I recently chose to be done with these. I'm just not interested in how they make me feel afterwards…I'm no longer interested in how sweet and shocking to my insulin they are and how that shock feels in my body).
Do I get so wrapped up in the preparation of it that I lose sight of what I most want = connection with family and friends and connection with loving myself?
This is what most humans want…we want connection and getting obsessed with a menu, with the to-dos, the overeating comas only kills connection…really, it kills it…so…
So, question first…do you want to be obsessed with the menu, the to-dos, the overeating coma, the guilt, shame etc afterwards?
Or would you rather mindfully plan how you'd like to connect with your loved ones?
Hopefully the answer is yes…then ask: what activities will produce the level of connection you'd love to create and then mindfully plan how you'd like to connect and then how you'd like to connect and love yourself in the process?
Is your why the to-dos, the obligation, the "this is how we've always done it" or is it the connection?
Then ask yourself, if your focus was solely on creating AMAZING connection, would you do anything differently?
If so, WHAT WOULD it be?
**Quick ideas for connection:
A. I have a couple table top games, that are simple boxes of questions (got them at TJ Maxx) to ask my relatives at the table.
B. Think of several questions you'd love to know about the people there…focus on that. There are lot's of links out there with great questions.
C. Think of 2-3 feelings you really want to create on purpose and ask your brain what you could do to create those feelings on purpose: example: I want to create fun, love, appreciation & connection so I'm going to make sure that I ask my loved ones lots of questions about themselves and thank them and lather on the appreciation.
D. Play Games. My brother's family has this amazing game called Telestrations (think telephone with drawing) that is great for all ages…it's SO funny and brings so much fun to the celebration, I always work on bringing it in to the activities.
E. Go on a walk together. Move your bodies together.
F. What are some of your favorite ways to create connection?
TOOL #2 MENTALLY PLAN AND PLAN ON PAPER BEFOREHAND BASED ON WHAT YOU REALLY WANT
Planning beforehand is crucial because it requires you to use your pre-frontal cortex in anticipation.
It puts the pre-frontal cortex in charge and doesn't leave your brain to chance when the choice is placed before you of the multiple pieces of pie.
So, plan beforehand not only your menu if you are cooking, but plan beforehand what you will eat.
And as you plan, ask yourself, what do I REALLY want.
IF I were to pick 5-6 things that I most want, what would they be?
Then, write it down.
There is magic that happens when you write a plan down.
It helps wire it into your brain and helps you have a greater ability to stick to it.
Plan what you'll eat and what you won't.
I plan to eat turkey, veggies, mashed potatoes, 1 piece of pumpkin pie, 5-6 bites of the appetizer spinach dip my relative makes…and 1 roll. The end.
Then I'm going to eat it really slowly and stop when I feel about 80% full.
TOOL #3 BE KIND AND COMPASSIONATE WITH YOURSELF
Here's another rarity.
We don't usually think to stop and ask ourselves how to I want to feel at the end of the day?
How do I want to feel physically and emotionally at the end of the day?
Do I really want to be crazy bloated and shaming myself?
Do I want to numb out and be semi-present?
Or do I want to feel connected, like I had fun, with lots of love and energy afterwards?
Do I want to feel like I loved myself and my body today?
What if you gave yourself permission to choose to love yourself and your body ON THANKSGIVING?
Did you know those 2 are not mutually exclusive?
Um, yeah, they're not.
Start by just asking the questions: how could I love myself and my body and have my back today?
What does your brain come up with?
What does it say?
Does it have you tweak your menu to have less or no sugar and flour in it?
Does it have you create more connecting activities?
Does it tell you to EAT SLOWLY and PUT YOUR FORK DOWN BETWEEN EACH BITE and STOP when you are full?
(I HIGHLY RECOMMEND THIS LAST ONE–EAT SLOWLY, SAVOR EACH BITE, PUT YOUR FORK DOWN BETWEEN EACH BITE-TALK TO PEOPLE BETWEEN BITES AND STOP WHEN YOU ARE FULL.)
The tool of being compassionate with yourself w will always be the key to winning with food no matter if it is holiday season or not.
When we are coming from a loving place for ourselves and understand that our brain's instinct will want to judge us, we can re-direct our brain with questions like:
How can I be kind and compassionate with myself now?
How can I slow down and thank my body and love my body as I eat?
How can I give thanks for my body?
How can I put deposits of love into my body now?
If I eat a little more than 80% full, which let's be honest, I probably will, I will not beat myself up.
I will forgive myself immediately and not go to shame or guilt.
I am committed to this because beating ourselves up just leads to more overeating.
I will just wait until I feel grumble in my tummy hunger the next day to eat again.
That's it.
Waiting until you are actually physically hungry again is one of the most compassionate things you can do and give your body and yourself.
Hopefully this helps you get all nice and mentally, emotionally and physically ready for Thanksgiving!!
ONE MORE BONUS TOOL
: Don't eat breakfast the morning of Thanksgiving. Just drink tea with cream. Depending on what time you have your Thanksgiving meal, I invite you to go into it fasting or lightly fasting…then the next day, I invite you to fast until at least 2 pm or until your body is actually physically hungry.
This just gives your body a chance to rest and heal if you eat a bit too much.
Happy Thanksgiving Preparation!
Love,
Candy
p.s. If you're ready to be done with all the aftermath of overeating shame, and you're ready to invest in yourself fully and really Stop Emotional Overeating & Lose Weight For Good, I will teach you my step-by-step proven process to solve this for good. CLICK HERE to set up your Coaching Strategy Call now and we will get the process started. In just this first amazing call, you will start to change.