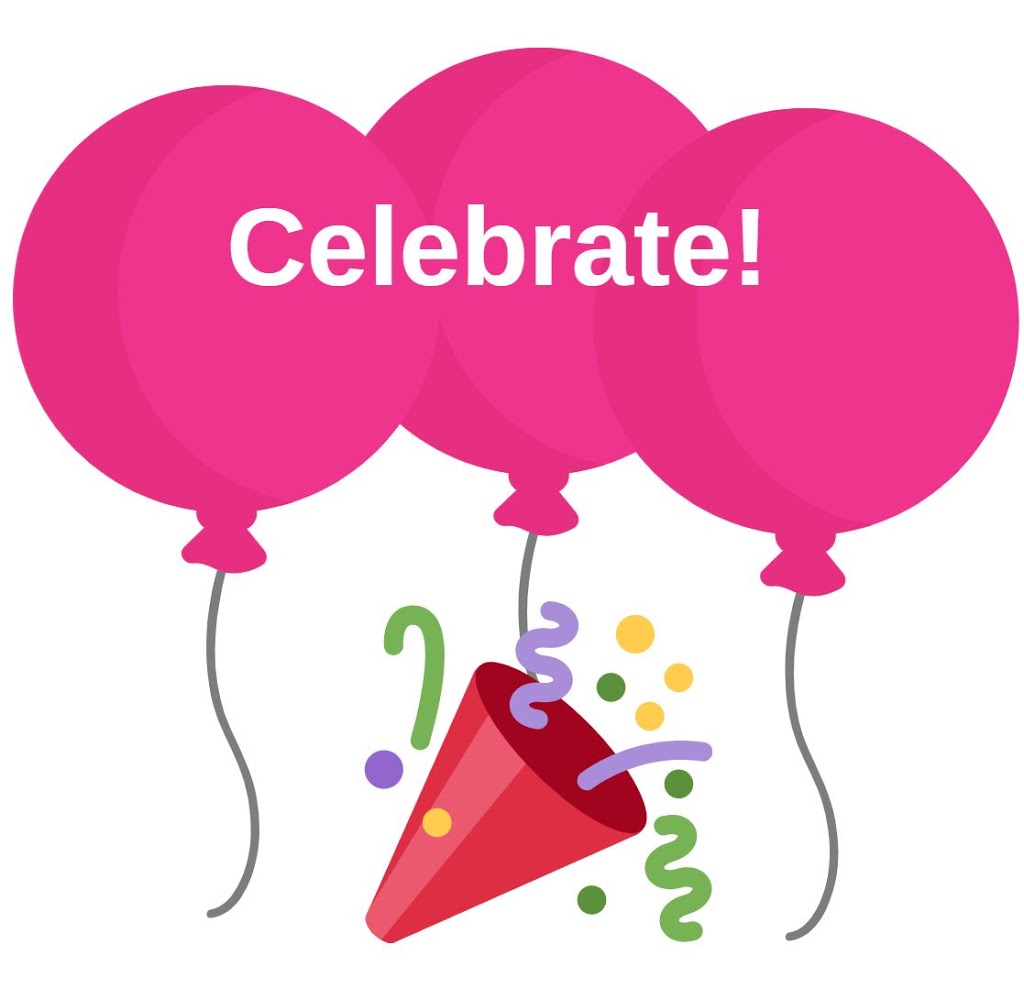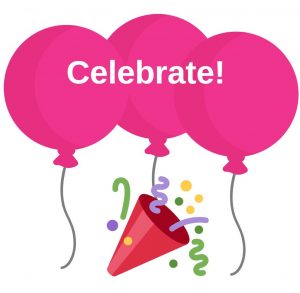 Hi y'all…

This week, it's time for some ce-le-bra-tin'!

I got to go to Texas to visit my new step grand baby! Celebration!

(My hubby John and the little lady! Aren't they adorbs?)




Then we flew to Arizona to celebrate my mom and dad's 50th anniversary! Celebration!

Look how cute they are!!




All my siblings (there are 8 of us) and most of the 32 grand kids will be in attendance. We haven't all been in the same place at one time since 2012. Celebration!

You know why we need to celebrate?

Because it feels good. Really, do we need another reason?

It's a way to honor all the time, work, blood sweat & tears that we put in to things.

From a brain perspective, and you know I always throw that in there, when we celebrate things, especially when we wake up our brain to the new things we have accomplished or done, it helps the brain remember that that thing was important…and to remember it, store it, and repeat it again in the future.

But how often do you notice that your beautiful amazing brain wants to gravitate to, dwell on, perseverate on, or just plain get stuck on the things you are not doing instead?

How often do you notice your brain doing that instead of looking at all you have done and accomplished?

If your brain is like mine, which I'm guessing most of yours are, it naturally gravitates to thinking about all I haven't accomplished yet.

It sneaks up on me all the time and what happens is that I start to feel down on myself and I start to not be able to see all that I have done.

When our brains gravitate to only seeing what we haven't done, it cuts off some of the communication to the thinking part of our brain that can choose to see all we have done and therefore help us focus more on the positive…which helps us create more positive in our lives.

How often in your journey with weight-loss, or improving relationships, or improving your emotional life have you gotten stuck in seeing all that you haven't yet done?

Ask yourself this question.

It's very enlightening.

Mine happens weekly, OK, daily, let's be honest, Candy. And when I'm not careful, it can get the better of me and cause me to start to get down on myself.

No bueno.

So, that's why I'm making a case for celebrations.

The more we are kind and generous with ourselves, by noting our accomplishments that we'd like to celebrate, the more we can calm our brains down from getting stuck in this loop of only seeing how "short we are falling" and then actually see all that we have done.

My clients find themselves here often and it's not a surprise…because they are human and this is what human brains do (and I do it too).

Their brains gravitate to looking at all they haven't done yet or how not yet perfect they are and it just causes them to stall or beat themselves up, which is a waste of energy.

Nothing has gone wrong when this happens and we can catch it.

I propose that if you find yourself stuck, perseverating, or gravitating to only see what you have not yet done, take out a piece of paper and start writing down all the things this week that you did do that you could give yourself a pat on the back for. Do it, I'm serious…

Be generous.

Please be generous and kind with yourself.

This is a huge key.

Watch what can happen when you start looking at all you have done, watch how it improves your emotional state.

It is literally re-focusing your thoughts on the positive and therefore it is creating a new positive, emotional state.

I want to see your lists.

Send them to me.


Here is the list of my celebrations I wrote down today.
–I want to see yours, seriously:

**I felt some big stress a couple of times while in the store over the past 2 days getting ready for the 50th celebration and I didn't lose my cool, I just asked for what I needed or went to go find what I needed by myself to calm down.

**I got this post done on my vacation and took care of my brain by going to a quiet room to do it. (I really wanted to stay out and sit in the same room with my mom and hubby, while they were quietly working, but I know that my brain cannot concentrate as well when I'm in the same room with loved ones.

**I made some new friends in Texas this week that can help me with a new part of my business.

**I GOT ACCEPTED INTO AN EXCLUSIVE MASTER COACH TRAINING THAT I START NEXT WEDNESDAY IN CHICAGO!

**I slowed down and watched a killer Texas sunset w/ my sweetie and got some great shots!





**I initiated games with my nieces and nephews who were getting bored and we had a great time.

**I MET MY NEW STEP-GRAND-DAUGHTER! CUTIE PIE.

**I felt extreme love for someone I used to struggle with.

**I GET TO CELEBRATE MOM AND DAD'S 50TH WITH ALL MY SIBLINGS.

**I made a cool thing for their anniversary party.

**I worked out at the gym 5 times already this week and will go tomorrow too.

**I planned food for most of my days while traveling.

**I didn't beat myself up when I ate too much Texas brisket.

**I waited a little longer to eat the next day after eating too much brisket.

**I chose to see the celebrations after noticing I was forgetting.

**I GOT TO GO TO MY NEPHEW'S BIRTHDAY DINNER LAST NIGHT!

The fun thing was that when I started listing them all down, more and more came to mind…when we take time to recognize and celebrate the small wins, our brains go to work to create more of them…so this is my invite for you this week:


What can you celebrate this week?

What does that allow you to see, be and do now that you are focused on that…let me know.

Have a wonderful week!

Love and hugs,

Candy
CANDY WRIGHT BURGOYNE, M.A.
Emotional Overeating & Healing Expert
CERTIFIED LIFE-COACH, WEIGHT-LOSS COACH,
RELATIONSHIP
Candy Wright Coaching
p.s. When you're ready to get help to bridge the gap and create freedom from emotional eating and lose weight for good…
CLICK THE "SCHEDULE APPOINTMENT"
BUTTON BELOW TO SCHEDULE YOUR
FREE COACHING CONSULT CALL WITH ME TODAY.