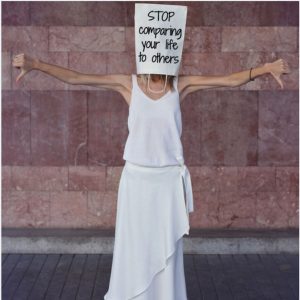 How many of us have spent time on Facebook/Instagram just to come away feeling like your life is not what it "should" be?

How many of us have come away sad or depressed or spiraling from doubting our self-worth after comparing ourselves with Facebook/Instagram Land?

How many of us have ever been any where, doing anything and we felt the comparison thoughts coming up?

You're probably human if so.
THIS CAN BE A HUGE REASON WHY WE EMOTIONALLY OVEREAT.
The sadness of comparison can be a big emotion that people want to avoid and so many often avoid it by grabbing a treat.
We look on social media and compare ourselves.

We compare a lot about the relationships and lack of relationships that we see on social media.

Many of my clients are not in a relationship.

Some of them are in a relationship.

I wasn't in a relationship for a REALLY long time.

All of us have struggled with relationships at some point.

It's part of learning, growing and being human.


When we aren't in relationships and we see others with partners and children, our brains often make this mean life is passing us by, or I'm missed the boat.
When we are in relationships, we may see others with more free time, more time & money to travel and wish we could go to the bathroom, read a book or take a nap without a little one climbing all over us.

We look at others and instinctively compare our grass on this side of the fence with others'.

This is a normal human instinct.

It doesn't mean anything has gone wrong.

Our brains are wired to compare because it helps us watch for things we can "improve" to make sure we stay alive.
The thing is though, comparing where we think we should be compared to where others are, only sets us up for suffering.

It's a version of saying that where you are at is "wrong" and where they are at is "right".

What if it's not about there being a "right" and a "wrong" place in life to be?

I thoroughly believe that we are in a school on this earth.

It may come from being a teacher for so many years, but that analogy really resonates for me.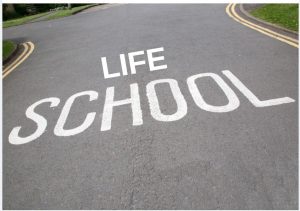 I believe that we are on this planet and it's a school to learn to be the best version of ourselves.


You can believe that or not. Either way, when we choose to learn instead of despise or fight against where we are at, it just feels better.

I don't think anybody has the exact same "life class" at the exact same time. There absolutely may be some overlap, but most of the time, we are all going through different lessons at different times.

When people think they should be married with kids when others are or when people think they would like the free time of being single, it's really not seeing the amazing curriculum that is your personal life.

And this is all instinctive. We all do it. ALL. THE. TIME.

So what if we could just expect the instinct to compare ourselves with others that are in a different "life class" than we are?

Being a parent comes with it's own set of learning tests.

Being a spouse comes with it's own set of learning tests.

Being single, with no spouse or children comes with it's own set of learning tests.

Being single, with kids, comes with it's own set of learning tests.

Being a widow comes with it's own set of learning tests.

Losing a loved one comes with it's own set of learning tests.

They are all just "life classes" and classes have tests. The end.

Expect it.

Test are supposed to happen.

Tests doesn't mean things have gone wrong.

And I'm not saying the tests are easy. AT. ALL.

In fact, they can be quite painful.

Some of the tests are supposed to be painful.

This still doesn't mean anything has gone wrong.

Tests are supposed to happen.

It just means you're human and you have an opportunity to "study" and improve and learn.


INSTEAD OF COMPARING YOURSELF TO OTHERS, ASK YOURSELF THESE QUESTIONS:

What is perfect about my life's curriculum and this "life class" that I'm in now?

How is this situation exactly what I need to grow, learn and become the next best version of me?

How can I allow myself to feel all the feelings positive and negative of this part of my life's curriculum without making any of the feelings "wrong".

How can I just allow myself to feel them all and process them all instead of fighting it?

How is everything unfolding for my highest good?


JUST ASKING THESE QUESTIONS WORKS WITH HOW THE BRAIN IS WIRED TO HELP IT SCAN FOR ANSWERS TO THESE QUESTIONS
(Instead of scanning for the answer to: How is my life not like the others, or how do I not fit in?)
It helps your amazing brain find answers to these questions.
It helps your brain honor your most amazing life curriculum.
It helps you honor you and love on you.
It helps you stop over eating for the emotions of sadness, despair & depression.
When you see your life through these questions, we usually don't feel like stuffing our emotions with a donut.
If you know someone who is struggling with comparison, please send them this post.

If you know of someone who is struggling with self-doubt, please end them this post.

We can be amazing blessings in each others journey in our school of life.


I love you my friends. Truly, I really do.


WARMTH, HUGS & LOVES TO YOU!

CANDY WRIGHT BURGOYNE, M.A.
CERTIFIED LIFE-COACH, WEIGHT-LOSS COACH, RELATIONSHIP & HEALING COACH
FREE YOUR JOY! COACHING


TO GET MORE HELP & SUPPORT IN BREAKING THE HABITUAL NEGATIVITY QUESTIONS & NEGATIVE THINGS WE TELL OURSELVES THAT LEAD TO EMOTIONAL EATING…
CLICK THE "SCHEDULE APPOINTMENT" BUTTON
HERE
TO REGISTER FOR YOUR FREE ONLINE COACHING GET TO KNOW YOU CONSULT! I WANT TO GET TO KNOW YOU!
Schedule Appointment
If you are a former client, research partner, or current client, I have some new products available & would love to work with you. Click below to set a call time with me! I would also just love to connect!