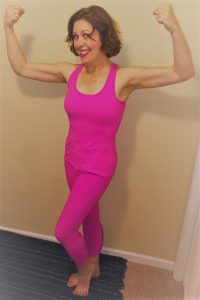 ONE KILLER TIP TO START SELF-CARE
We hear a lot about self-care these days…but why? How???
I've been studying human instinct for several years now & I'm constantly fascinated by the instincts of our human brain. It's the most amazing thing.
One of the instincts I've been thinking about lately is the compulsion we have to put ourselves at the end of our to-do lists.
We so often feel driven to do, do, do, be busy, be busy, be busy taking care of work, things, others etc (none of this is bad or wrong).
What ends up looking like, though, is we don't pay attention to ou
rselves, our brains, our hearts, our emotions, our spirits OR our bodies & we put ourselves at the end of the list.
Then we get out of touch with what our body & soul really need.
This is totally what I did a few years back that had me gain 65 lbs. I was in a continuous state of being busy & doing "stuff" that "seemed" important but I wasn't taking time to really analyze if all that stuff & all those things were REALLY WHAT WAS MOST IMPORTANT TO ME.
I wasn't aware that a lot of it wasn't & I wasn't aware WHAT A TOLL THAT REALLY HAD ON MY BODY & SOUL.
IT WAS WHEN I FOUND COACHING & HEALING COACHING THAT THINGS STARTED TO CHANGE.
I started to learn that it was crucial to put myself at the top of the to-do list because if I didn't, I was a pile of exhausted hot mess on the floor when I didn't-and nobody including myself, wanted to be around that.
It was when I started to learn about the CRITICAL importance of giving myself some love, attention, and care, that things really started to change for me.
I know we hear it a lot, self-care, gotta do it.
But do we really know why, do we really know how?
You don't have to figure it out alone.
QUICK TIP: Start by making a list of your top 3 priorities & then ask yourself, is my day in alignment with that?
If not, ask yourself why…why is a healing question when we let it be!!
I hesitated to share this picture because it's out of my comfort zone, but you know what, I'm really proud of all my work & accomplishment.
I love what I got to learn in this process.
Giving myself, some love, care & attention has paid off AND IT'S BLESSED THE PEOPLE IN MY LIFE TOO.
I show up as the best version of Candy when I take care of me & this is what they love & this is what I love to be & give. WIN-WIN. P.S. I LOVE PINK.
IF YOU'D LIKE TO KNOW MORE AND COME & PLAY WITH ME ON THIS RIDE OF TRANSFORMATION…
CLICK THE "SCHEDULE APPOINTMENT" BUTTON
HERE
TO REGISTER FOR YOUR FREE ONLINE COACHING CONSULTATION

WARMTH, HUGS & LOVES TO YOU!

CANDY WRIGHT BURGOYNE, M.A.
CERTIFIED LIFE-COACH, WEIGHT-LOSS COACH, RELATIONSHIP & HEALING COACH
FREE YOUR JOY! COACHING