Do you ever wake up with a bit of dread about your day?

Does that dread ever instinctively cause you to desire a treat?

A sugar filled drink?

A donut? A muffin?

Extra helpings of whatever's in front of you?

If so, you are probably a human.

There's a really good reason we wake up with dread sometimes.


IT ALL COMES DOWN TO WHAT OUR BRAIN IS THINKING & ASKING WHEN WE WAKE UP EACH DAY.

Ask yourself this:

Do you notice yourself waking up with one of these following phrases?

I have to….

I need to…

I should…

It has to be this way….

There's so much to do…

If you do, this is usually why we are feeling dread.

It's really easy for the brain to go to default, auto-pilot, survival brain thought processes right in the morning as we are waking up because our brain is often not fully "on" yet.

Just notice, do you default to more of the negative or the I have to…I should…thoughts each morning?

You may not, I know there are people out there who wake up like Pollyanna (my sweet hubby is one of them) and I think that's amazing.


Whether you wake up with some dread or overwhelm or if you don't, I invite you to just ask yourself:

What do I tell myself right when I wake up?

Do I like how that thought makes me feel?

Does it make me feel dread & like I need to immediately grab food (or any activity to avoid the dread feeling) to calm it down?

What questions do I ask myself right when I wake up?

Am I asking myself questions like:

Oh no, how am I going to get all "this" done?

There's so much to do, why do I keep piling so many things on my plate? Why do I keep doing this to myself?

If we wake up telling ourselves, "I have to, I should, I need to, there's so much to do" etc.

IT CAUSES OUR BRAIN TO CREATE THE FEELING OF DREAD OR OVERWHELM

If we wake up asking ourselves, things like:

"How am I going to make this all work today? How am I ever going to get this all done? How can I control this so it goes well, oh no, what if it doesn't go well?"

IT CAUSES OUR BRAIN TO CREATE THE FEELING OF DREAD OR OVERWHELM
Which often leads to emotional over eating!
2 OTHER OPTIONS THAT PRODUCE MORE JOY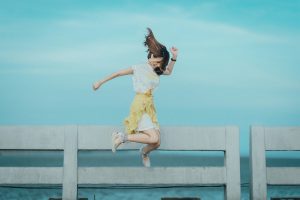 1. Ask yourself different questions.
2. Tell yourself different things.
ASK YOURSELF DIFFERENT QUESTIONS:
It may seem overly simplistic to some, but it is crucial that we control the conversations in our heads by how we speak to ourselves. It really will create a whole different outcome when we ask ourselves different questions & choose to tell ourselves different things.
Instead of asking how you can't do things or how you will do things with "so much on your plate", ask yourself:
HOW DO I WANT TO FEEL TODAY?
HOW CAN I CREATE THAT FEELING WHILE I CHOOSE TO DO THE THINGS I CHOOSE TO DO?
It may seem like just a slight shift in semantics, and well, it is.
AND IT CAN CHANGE YOUR LIFE.
TELL YOURSELF DIFFERENT THINGS:
Instead of telling ourselves I have to…I need to…or there's so much to do, what if we could shift to I CHOOSE TO….
I triple dog dare you to try that one.
What if everything you get to do on this planet really is a choice & a gift?
One of my rock-star clients (all my clients are rock-stars BTW) started writing down awesome questions the night before so that when she woke up, she had them to look forward to.
SOOO POWERFUL! IT SET HER DAY UP FOR AN AMAZING DIRECTION.
QUICK EXAMPLES
When I ask myself (and when my clients ask themselves) how do I want to feel today, it sets the brain on a search for amazing feelings, not dread or overwhelm.
This morning I woke up with some dread.
I was telling myself I had to…I need to…and how am I going to get all this done.
My brain doesn't usually come up with tons of new and fresh ones…so it's really important to notice your patterns & catch them.
So, one of my amazing coaches helped me see that all that was happening was my brain was defaulting to:
I have to do all this stuff…
She invited me to say I choose to do this.
Bam, it sent a different set of chemical vibrations through my body that created a feeling of…
Wait for it…I FELT EMPOWERMENT. NOT DREAD.
What if everything really is about asking a different question & making a choice, from your pre-frontal cortex power?
WHAT IF WE CAN CHOOSE TO SAY:
I CHOOSE TO DO….
OR
I GET TO DO….
OR
HOW DO I WANT TO FEEL TODAY WHILE I CHOOSE TO DO….
HOW DO I WANT TO MAKE CHOICES AROUND FOOD TODAY IN A WAY THAT MAKES ME FEEL PROUD, EMPOWERED, & SELF-LOVE?
WHAT COULD OPEN UP FOR YOU?
THAT'S MY INVITE FOR YOU THIS WEEK.
Here's to choosing & asking amazing questions.
WARMTH, HUGS & LOVES TO YOU!

CANDY WRIGHT BURGOYNE, M.A.
CERTIFIED LIFE-COACH, WEIGHT-LOSS COACH, RELATIONSHIP & HEALING COACH
FREE YOUR JOY! COACHING


TO GET MORE HELP & SUPPORT IN BREAKING THE HABITUAL NEGATIVITY QUESTIONS & NEGATIVE THINGS WE TELL OURSELVES THAT LEAD TO EMOTIONAL EATING…
CLICK THE "SCHEDULE APPOINTMENT" BUTTON
HERE
TO REGISTER FOR YOUR FREE ONLINE COACHING GET TO KNOW YOU CONSULT! I WANT TO GET TO KNOW YOU!
Schedule Appointment
If you are a former client, research partner, or current client, I have some new products available & would love to work with you. Click below to set a call time with me! I would also just love to connect!